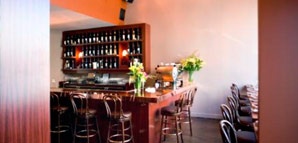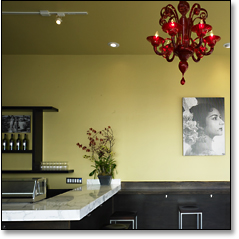 When it comes time for dinner, everybody knows that heading out to the Mission is a safe bet.  
But you like to have a few
hidden gems in your back pocket. Something off the beaten path that's sure to impress the right company at that opportune moment.
 
Here to fill that need is Lalola, a cubby-sized nook of a tapas bar opening Saturday at the corner of Mason and Pacific.
 
Located in the old Fortune Wok space (but now decked out with a red Murano glass chandelier and marble-topped bar) and brought to you by a trio with strong ties to Spain, Lalola, which roughly translates as "the Lola of all Lolas," is as close as you'll get to an authentic tapas bar on this side of the cable car tracks.
 
Once you claim your spot at the bar or at one of the elevated tables near the windows (we like the one under the photo of Orson Welles with some bullfighters), order a glass of Cava or a Rioja from the all-Spanish list. Tapas-wise, you could play it safe with the Hamburguesa Iberica and signature Paella Lalola, but we say branch out and opt for Spicy Garlic Shrimp and Shredded Oxtail.
 
Think of it as the Spanish version of surf and turf.