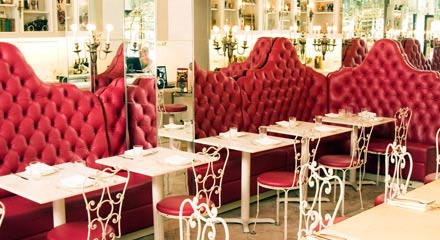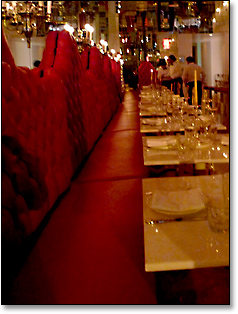 You've put together your fair share of showstopping dates all over this town.
But we found one for your arsenal that may take the cake. Literally.  
Welcome to
Sweetiepie
, the bizarre restaurant, dessert bar and absinthe den wrapped into one, opening for walk-ins tonight in the West Village.
Think of Sweetiepie as the imaginary restaurant that your little sister wanted to open when she was 11—but with hard alcohol. Or better yet, the fashionable boite
Marie Antoinette would create to let them eat cake in the West Village. On those nights when you're looking to shake things up and land yourself in the middle of a conversation piece of a restaurant, then you now have Sweetiepie.
 
Let's get this out of the way: Do not go here alone. Female companionship is a must, mostly due to the surroundings. You'll see pink marble floors and mirrored walls and ceilings; murals of whimsical zebras, clouds and...storm troopers; ornate, red, tufted banquettes. The overall effect will make you want to booze. A lot. So find your way to the white marble bar, order up some absinthe and dig into a $50 twenty-scoop ice-cream sundae, a mini wedding cake served on an elevated crystal tray, or just opt for a brilliant pancake dinner.

And if you really want to hammer it home, request to sit in the golden birdcage.

At this point, why not...