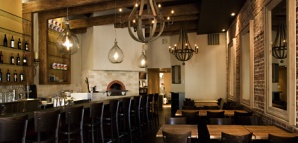 When it comes to the good things in life, you're willing to go the extra mile.

But you don't complain when the extra mile comes to you.

So while you've been known to cross the Atlantic for an authentic Neapolitan pizza, we've found a spot just across the Bay that'll satisfy your cravings without the jet lag (or plane ticket).

Welcome to Marzano, Glenview's cozy new Italian spot brought to you by the team behind Home and Garibaldis, opening Friday.

Marzano, short for San Marzano—home of Italy's finest tomatoes, grown in the volcanic soil south of Mount Vesuvius—is an intimate pizza den oozing with tradition and piping-hot pies.

Come with a date, stake out a table under one of the rustic, wine-barrel chandeliers and keep the ordering simple: pizza, a topping or two and some Pinot. Chef Robert Holt (Cetrella, Boulevard) uses the namesake tomatoes from the homeland to make his authentic sauce and hits all the features of the best Neapolitan pies—thin, crisp-yet-chewy, charred edges—with the help of the wood-burning pizza oven he brought over from Italy to grace us with its well-worn presence at the end of the bar.

In case you want something else to go with your pizza, you'll find classics done well like pork meatballs in a tomato-prosciutto broth.

Or another bottle of wine...