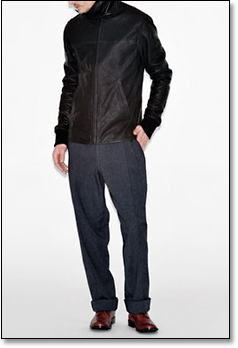 Contrary to the general sentiment, there are banks that still hold some value.  
Take the new digs for minimalist, classic Swedish designer
Filippa K's
first stateside boutique: an old converted bank, opening Tuesday at the end of Maiden Lane.
Think of Filippa K as your understated yet supremely edgy (in a jovial sort of way) Scandinavian architect friend, and the boutique should come into focus. The lofty space is inviting and far from cluttered, with clean lines, Corian surfaces, modern light fixtures and a few natural, organic materials to round things out.  
It's the perfect place for you to work on that thinking-man-with-an-edge look you've been trying to cultivate these last couple months. The staples that you're familiar with from Barneys (like slim-silhouetted shirts and suits, classically tailored jackets and thin-knit sweaters) are all there. But the real draw is that you'll get to browse Filippa's entire line, from jeans and T-shirts all the way down to textured baby-cord button-down shirts (much nicer than old-fogey cords), leather driving gloves and lace-up boots.  
And, with the holidays around the corner, you can pick up a few accessories for her, like a snake leather bag or long turquoise
leather gloves.
 
Think of it as an investment in your future.