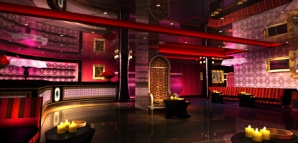 We've got news for you: The season is here. And things are about to get really busy. (And a bit
Moulin Rouge
-y.)
So while your time is precious, and though it's been
a busy week club-wise
, we think your social schedule has room for one more worthy addition.
That would be
Louis
, soft-opening this weekend for private events, and open to the public on Monday.
From the folks who brought you Privé, Opium Garden and SET comes an intimate club that takes its cue from the excess and all-around trippiness of the French royal court. (So much more fun than the Dutch royal court.) Located on the ground floor of the Gansevoort South, Louis is a gentlemanly club (gentleman
ly
) that's not afraid to mix hot pink donkey hide chairs with black lacquered surfaces (what a relief).
The front lounge is where you'll want to woo that mysterious European exchange student, with deep plush sofas, towering vases of roses and oil paintings crafted by graffiti artists.
And be sure to order a few cocktails from the Marie Antoinette-inspired servers, Dunst'ed up with powdered wigs and eighteenth-century beauty marks. It may seem a bit much, but then again...
A bit much is why you're here.