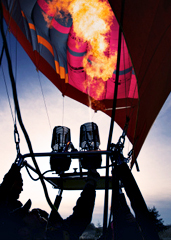 Dating rule #388: Always keep them guessing.
Wine in wine country: way too obvious.
Wine in wine country... in an honest-to-God hot-air balloon: now you're talking...
Look up in the sky at
Hot-Air Ballooning at Bennett Lane Winery
, wine country's first winery-affiliated hot-air-balloon ride, taking reservations now in Calistoga.
First things first: we should mention the matter of arriving at the winery at the crack of dawn (7am-ish). But to ease the blow, they can arrange for a limo driver to chauffeur you from your hotel and back.
With coffee in hand, you'll want to watch them blowing up the balloon with the backdrop of cabernet vineyards behind the estate. Once the grape-cluster-decorated balloon reaches its fully inflated height of nearly 70 feet, you'll step into the basket and let your pilot gently guide the balloon up.
You'll launch from the area behind the winery that used to be old carignan vines. Then, as you soar to upwards of 3,000 feet, you'll be able to pick out landmarks like Mount Saint Helena, the Old Faithful geyser, the modern-day castle that is Castello di Amorosa, Chateau Montelena and... your house. Probably.
There'll be a champagne brunch at Meadowood following the hour flight. But if you think a toast at 3,000 feet is more appropriate, they can probably accommodate that.
High altitude tends to make you thirsty.
Note:
<a href="http://www.bennettlane.com/" target="_blank">Hot-Air Ballooning at Bennett Lane Winery</a>, taking reservations now for private and group flights, call 707-942-5758 or <a href= "http://www.calistogaballoons.com/itinerary_pricing.htm" target="_blank">book here</a>