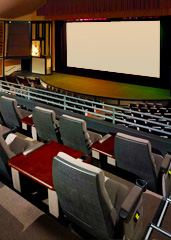 There's something magical about Sundance.
And, well, some un-magical things: a higher concentration of reality stars. Swag bags filled with bad jeans. Something white and unpleasant that Park City-ans seem to refer to as "snow."
If only you could focus on the magical part—discovering the next great indie movie—without all the other stuff.
Introducing
Sundance Cinemas
, the new Redford-sanctioned movie house where you can take in a quality flick with a cold beer in hand any time of year, hosting preview events Monday and officially opening next Friday.
You might still be a little sore about the departure of the late, great, grungy Sunset 5, where this place now resides. Until, that is, you see the fancy new rocking armchairs (with an online, seat-specific reservation system, à la the ArcLight), the sound system that actually seems to be from this century and the former office space upstairs that's been transformed into a lounge where you can grab some beer or wine before or after your movie. Discreet wine lounges do generally represent progress.
Also, some of the shows are specifically 21-plus, which means you can bring your beers right down into the theater if you're not finished. And yes, they're focusing on Sundance-y indies, so on weekends when you want to avoid the blockbuster crowds, this is your place for the movie half of dinner and a movie.
It's okay if both halves involve beer.