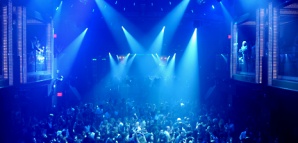 Size has never been an issue with you.
In terms of nightlife.
Whether it's an
intimate rum bar
or a stadium-sized megaclub, you know how to make a space work for you.
And in this case, the space will be doing a
lot
of work for you. Introducing
LIV
, the much-hyped-for-good-reason, cavernous, gold-encrusted new club at the revamped Fontainebleau. LIV opens this weekend, so consider this your primer.
You'll begin by walking into the glossy retrofitted hotel lobby dripping in giant yellow crystal chandeliers, vintage furniture and bowtie flooring (you knew bowties were back). On your right are the velvet ropes for LIV, where you'll pass through a lace-strewn reception room before entering the majestic, two-story, opera house-like space. If you happen to get lost in all the marble and streaking LED lights (2,000, give or take), head to one of three ground-level bars to steady yourself as you plot your next move.
When you're ready to get more intimate, the upper level awaits with six private VIP cabanas (all glass) that overlook the main level—think of it like a skybox with bottle service. Celebs that have already left their stiletto prints on the banquettes include Gwyneth, Chloe and the Victoria's Secret Angels.
Your kind of crowd.