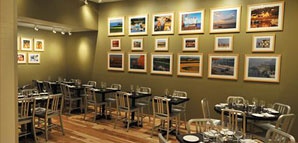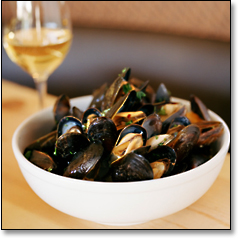 In the restaurant world, obsession and mild mania go a long way.  
Take the case of quiet UES newcomer
Flex Mussels
, a
Prince Edward Island import so infatuated with the edible mollusk that they've built a shrine to the little critters and figured out 23 different ways to serve them to you.

Find your way uptown when you know the mussel needs to be the star of your feast. Of course, there are a few other offerings on the "not mussels" side of the menu (a lobster roll, a few oysters, some Grilled King Salmon), but the smart money's on exactly what you came here for: plump mussels, imported from Canada's mussel hotbed, steamed and stewed by experts.

Your itinerary whisks you from one international preparation to the next: Start with the Dubliner (Guinness, toasted walnuts, caramelized onions), the Peking (Peking duck, scallions, ginger, rice wine, garlic) or the Southern (there's bourbon involved). But you'll probably want to give the Green Fairy—absinthe, caramelized onions, sweet peppers, cream—a whirl (you always do).

The space is relatively unadorned, but that just keeps the focus on the mussels and the oyster bar up front, where an oyster showman with no equal (at least in Canada) plies his trade. While the mussels may take center stage, this Canadian world champion oyster shucker does his best to bring your other favorite mollusk into the spotlight, as he expertly mans the raw bar.

Think of it as dinner and a show.