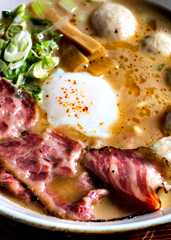 Mankind's got a few accomplishments under its belt.
Harnessing fire. The polio vaccine. The Internet. The Internet on phones. Christina Hendricks. The wave.
This is better, because it's about noodles.
Smooth out some chopsticks for
Dassara Brooklyn Ramen,
a humble house of folks pushing bravely to the farthest frontiers of ramen, now open in Carroll Gardens.
This place is basically one giant, neon-lit leap for ramenkind. These guys are on a mission to pinpoint all the best foods and hammer them lovingly into the form of your favorite Japanese soup.
You're going to notice the
Deli Ramen
. Of course you are. Because it's a heaping bowl of noodles and chicken broth with huge chunks of Mile End pastrami and matzo balls. And coming soon: brunch. And with that: bacon, egg and cheese ramen. (Pancake ramen has never been more realistic.)
Bring a date. A fearless one. Or bring a bunch of loosened-up friends. Doesn't matter. Just grab a table and order up some rice cakes with Chinese sausage and miso-rubbed-bacon oysters to start. And maybe one of the soju or sake cocktails (by the way, Old Fashioneds have plum wine now).
And then order ramen. Whatever scientific miracle of ramen they've performed that week, get that.
In case it wasn't clear, you're going for the ramen.