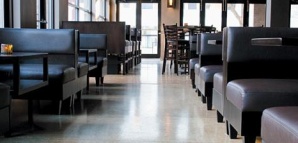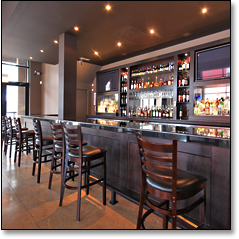 The boat may have sailed on plastics, tech, real estate and credit default swaps.
But when it comes to getting in on the ground floor of the burgeoning Friday night martini industry, we have one word for you:
Edge
, soft-opening tonight in Wicker Park.
Like the best insider tips, you're among the first clued in: Owners have been reluctant to talk up their stock until they hit their stride. (The fact that this place is hidden in plain view, a rare achievement for this stretch of Division, should help.)
Set back from the busy street thanks to the alcove-style patio, Edge encompasses the entire first level of an otherwise inconspicuous new condo complex. You'll find plenty of tables out there come spring—but for now, consider this your winter retreat. Starting next week, you can choose from a lineup of warm coffee cocktails (an espresso martini has always been our prescription for Seasonal Affective Disorder).
Sip one in the soaring, walnut-paneled back lounge and you might begin to feel you're in a River North hotel rather than a Wicker Park hang. Cocktail tables are high enough for you and a date to comfortably sample mini ostrich sliders or quesadillas while you chat. But if you're entertaining an entourage for bottle service, be thankful for modular booths that can be joined together as the crowd around you blossoms.
In times like these, it's good to have expansion plans.