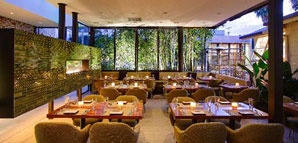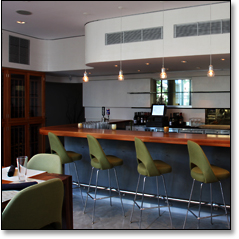 With all the overdone restaurants across town lately, you could do with a little Scandinavian minimalism. Also, a dried sausage.
AK Restaurant + Bar
is now accepting reservations online for next week's long-awaited debut in Venice.
Here for those Abbot Kinney nights when you need a break from Axe, AK reconfigures dinner as a cookout thrown by your design-iest friend (who has run Four Seasons kitchens around the globe). If you bring a date, take a seat on the covered patio by the green fireplace—but to better bond with your fellow minimalists, go for a communal table in the breezy but technically-indoors bar area beyond. Or head straight for the counter to start with a glass of Pinot and your share of the dried sausages hanging in the corner. (You've always considered
Spicy Duck Sausage
a palate cleanser.)
As for dinner, you can order your
Herring Three Ways
or half-pound
Lamb Sirloin with Dried Tomato Cinnamon Smear
anywhere downstairs—but if your date requires some discretion, there's a more formal dining room hidden on the balcony above. And so you don't feel removed from the action up there, chef/owner Conny Andersson has kindly projected a live feed from the kitchen onto one of the otherwise bare white walls.
It's like your very own episode of Top Chef come to life...
Now all you need is Padma.