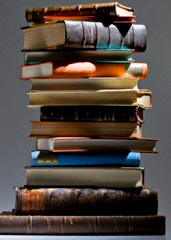 Any number of thoughts can enter your head throughout the course of a day.
Fruit Roll-Ups. Narwhals. Jack Palance. Flag Day. Gongs.
Maybe not even those. Maybe other stuff, too.
But it got us thinking. Someone should invent a website that lets you find any random thought that enters your head... in a book.
It'd be a lot easier to find interesting things to read that way.
Anyway, you guessed it...
Presenting
Small Demons
, an online collection of almost every book ever written, complete with searchable tags for the people, places and things within them (and pretty much anything else you can dream up), available now.
There's kind of a literature-specific Google vibe going on here. (Or an Internet-specific
Reading Rainbow
vibe. We haven't decided yet.)
Let's say you have interests. Baseball or whatever. And let's also say you'd like a comprehensive list of all the printed material in the universe that has anything to do with that. After you type "baseball" in the search box, a full breakdown of every book that so much as contains that word will pop up.
Which, great. But here's the beauty part: the same thing works in reverse. Search the name of a specific book and this thing will spit out categorized lists of everything referenced in it. People. Places. Music (the songs then link to iTunes). The protagonist's cocktail of choice.
Spoiler alert: James Bond liked martinis.