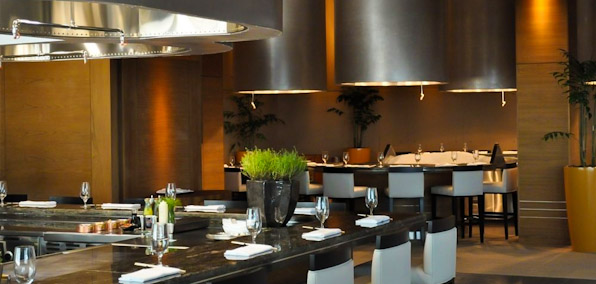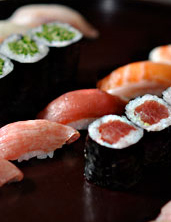 Michelin-decorated Japanese chefs. Always bossing you around, telling you what fish to eat and how. It's time you gave them some pointers about making your food.
It's time you became... the armchair Iron Chef.
Introducing
Tetsu Teppan Grill
, the first choose-your-own-dinner venture from controlling master chef Masa Takayama, opening August 1 at Aria.
Perhaps you're familiar with Takayama, the unbending Iron Chef whose stern "What I say goes" Omakase attitude is standard practice at all his restaurants. All but this one—his first venture into the world of teppanyaki. This one's more like a bespoke, high-end hibachi joint, only with less cowboy-chef theatrics, gas grills and seafood flown in twice-weekly from Tokyo's Tsukiji fish market.
Also, he's giving you a personal chef at your grill/table to micromanage, down to the body fat percentage of your sashimi.
You'll take a small, semicircular "VIP" table for six with a view of the giant ingredients table in the center, ordering a half-pound of blue lobster with a very specific amount of caviar. Your chef will nod, parse out the fish egg contents and slice the lobster tail to your liking, while suggesting a sake pairing from the restaurant's nearly-100-bottle collection.
Again, only a suggestion.