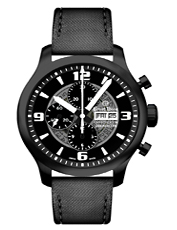 Strange times
call for strange measures.  
So as you finish out another week for the books—new president, street-choking protests, Ron Jeremy found hanging out at
Disneyland—you've started thinking you need a pretty unusual timepiece to keep track of it all.
 
Like a new Ernst Benz Time for a Change watch, designed by that noble timekeeper...Brett Ratner.
 
Inside the new men's concept shop now open within Saks, you'll find only 24 of Ratner's creation, an ode to filmmaking with a dial that looks like the viewfinder on a camera. It'll set you back a few grand, but some might consider that a small price to pay for a memento from the director of The Family Man.
 
If Ratner doesn't do it for you, though, the Swiss watch legend Benz also brought in Russell Simmons, Mary J. Blige and Eric "Dr. McSteamy" Dane to work their long-dismissed watchmaker magic. Simmons' model incorporates the seven Hindu chakras, Blige went the subtle route with a caramel alligator strap and two rows of diamonds, and Dane wanted an aviator's watch that looked like a stealth bomber.

Of course, if you're not looking to drop a few grand to support McSteamy's artistry, the store-within-a-store has also rounded up some Ferragamo leather, and shades from designer-turned-director Tom Ford.
 
Watch your back, Ratner.