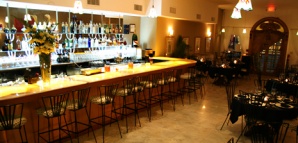 You love your local bar, but the playlist on the owner's iPod always seems so...virtual. Not to mention...Third Eye Blind-y.

So it's nice to know that places like Nite Cap, a piano lounge just opened in Surfside, are standing by with a little smoky, crazy, no-holds-barrred entertainment when you're ready to pull the live-music lever.

Located in the former space of Moroccan Nights, the two-story spot trades in heavy curtains and belly-dancing for an uncluttered supper club vibe. Beige and black polka-dot stools line the glowing amber-colored bar, while a glossy white baby grand holds court by the windows facing Harding Avenue. Upstairs you'll find another bar and cozy high-top tables perfect for getting to know your date.

It's all tied together by an unpretentious neighborhood feel a la Billy Joel's "Piano Man." There's live piano music most nights, but you'll want to head over there on the weekends, when the piano is accompanied by a cellist and the upstairs lounge is the domain of local DJs. Start off with the capellini doused with caviar and move on to Continental standards like herb-crusted rack of lamb and mussels Provencal.

And while you'll see other revelers downing dirty martinis and whiskey sours, it's worth sampling the spot's eponymous drink, a spin on a lychee martini.

Because you like your nostalgia spiked with something fruity and wet.