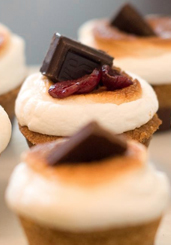 And now, a brief history of muffin-shaped s'mores.
...
Let's start over.
Presenting
S'muffins
, a new breakthrough in marshmallow and graham cracker technology that involves turning your favorite campfire... okay, they're muffin-shaped s'mores. And they're available online now for the first time ever outside of their birthplace in LA.
This is the story of a California girl named Carmen who left her career in ad sales to make delicious things. Actually, scratch that. This is the story of how s'mores just got a lot less labor intensive. And a lot more filled with chocolate ganache and sea-salt caramel.
The whole thing will go down like this: 1) Plan a camping trip. Or a bonfire near a very large, very salty body of water. 2) Go online and find the website that has s'muffins (hint: there's only one). 3) Get excited.
Because soon enough, a box will arrive at your door. Its contents: some dry ice. Also, a dozen muffin-shaped concoctions made by taking thick graham-cracker crusts filled with anything from peanut butter to cookies and cream, dipping them in dark chocolate and topping them with roasted marshmallows.
Oh, and if you ask nicely, you may be able to talk Carmen into customizing a few of these things for you. For, like, a birthday or an office party.
Or for, like, a really small stripper to pop out of.