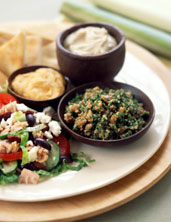 This pains us. Really, it does.
We don't like keeping secrets. You might've picked up on that.
But there's this mother of a four-course Indian feast going down this weekend, and... well... we can't tell you where it is.
Sorry.
But we'd still like to go ahead and introduce
Curry Cravings
, a roving Atlanta-based supper club that's now roved all the way to LA, holding its first of several summer events this Saturday at an undisclosed location.
Here's what we can share. After you get your tickets online, you can expect an alfresco picnic-type situation—one put on by an Atlanta hostess who's been known to loop in henna artists or the occasional Indian folk dancer.
Your dinner involves four courses of supreme Indian-ness, from fried lentil dumplings to mixed vegetable biryani to walnut ladoo. (It's like fudge, only not.)
Because of location-related restrictions, they can't offer booze. And officially, you can't bring any. Although... officially, your pants definitely don't have three flask-sized secret pockets either.
But anyway, about the where—they'll only tell you after you buy the tickets. It's part of the fun. All we can say about this one is that it's on the Westside, and you can expect some live music and truly majestic views. So you wouldn't exactly disappoint a date by arranging this little surprise.
Oh, and worst case, you will be able to buy some wine on-site.
So this story has a happy ending.