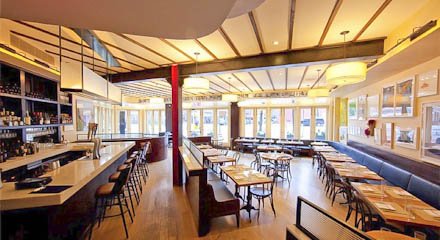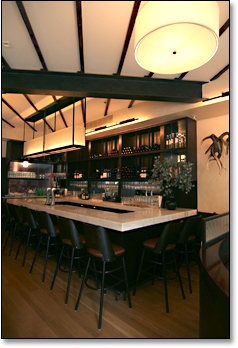 When you hear a new spot opens up across the street from Bar Pitti and Da Silvano and can hold its own, it's time to get excited.
But first, take a look inside
10 Downing
, now open for friends and family.
Though it shares a name with the prime minister's house in London, 10 Downing will bring you a bit closer to a hop along the coasts of Spain, France and Italy—places where the wine and conversation are still flowing when dinner hits its third hour. Just your style...
...as is the décor. The room is a swanky, airy trapezoid with green booths, ribbed glass and
dark wood accents. Stop by the small, light marble bar for a quick glass of bubbly (there's no hard booze, so you might be "forced" into a strict champagne regimen). Then find your way to the prime real estate near the floor-to-ceiling windows and soak in the perfect vistas of the West Village eye candy.

As for chef Jason Neroni's (Porchetta, 71 Clinton) and Katy Sparks' Mediterranean-tinged menu, go with the Ocean Trout Tartare, Squid Ink Agnolotti or the chicken that is brined, smoked, air-dried, rubbed in butter and then roasted.

Come spring, forty seats will open on one of the biggest swaths of sidewalk in New York. In the meantime, enjoy the rotating salon-style walls loaded with art on loan from some of the owner's famous friends.
 
Just make sure to pay attention to the masterpiece across the table...