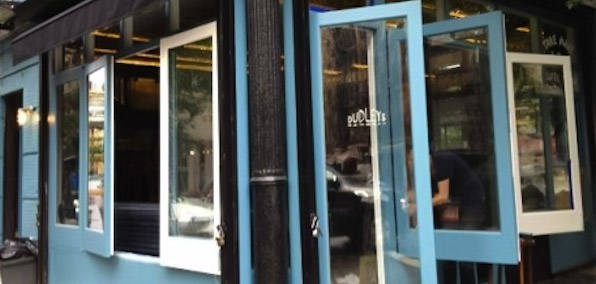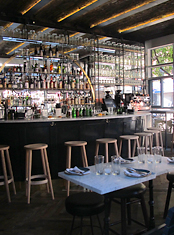 Dealing with 90-degree temperatures is tricky.
You don't want to universally complain. After all, it could be
not
90 degrees. And just look at all the clothing
not
being worn. That's a plus.
So you deal. You crack a window. You don't move too much. And you start drinking ice-cold things that prominently feature gin and watermelon...
And now, you do it at
Dudley's
, a handsome little open-air cube of Aussie-American gastropubbery, now open on the LES.
If the place gives off a certain Kingswood- or Ruby's-type vibe, that'd be because it's from the same guy. Which means you can expect homey
Australian tinges
. Also here: walk-up coffee window tinges. It all adds up to you chatting up a bartender from Down Under over warm-weather cocktails and grilled peaches with mascarpone (or a convenient cup of coffee).
Or you could chat up your date. One of the "first" variety. When you arrive, you'll notice... everything. On your left: an open kitchen, where they're preparing your
Bronte-Burger
with extra-special care, extra sweet chili sauce and extra truffle fries.
At right: a handful of marble two-tops and large open windows. This is where you'll spend the better part of a lazy afternoon getting to know each other the Australian way—with prosciutto, shaved asparagus and fried-egg crostini.
We're told this is the Australian way.