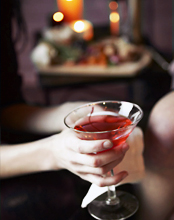 Basketball season: over.
Bruins season: over.
Summer: in full effect.
Which means your schedule has some nice open slots in it as of now.
We're thinking parties. Pop-up, never-repeating parties. Tailored to you.
This should help:
The Good Ones
, a new website that orchestrates invite-only, pop-up events in unusual venues around Boston, online now.
If you took Match.com, LinkedIn and a party planner focused on throwing a series of themed pop-up bashes at unique spaces in town (think: high-end salons, art galleries, hip sneaker stores), fused them together and launched a website around it—you'd basically get this.
You'll start by signing up and giving a little info about yourself: if you're looking for dating or networking, whether you prefer redheads or blondes, how you rate yourself as an overall package (no, it doesn't go to a billion). Then, you'll get emailed when there's an event that lines up with your qualities and interests (the first one's scheduled for July).
Oh, and don't be surprised if some of the parties get a little experimental. The team behind it has backgrounds in behavioral psychology, and they'll use that knowledge to craft some of their soirees (to study, say, how certain citrus smells increase people's libidos).
Which reminds you: it's time to get that Tropicana hot tub up and running.