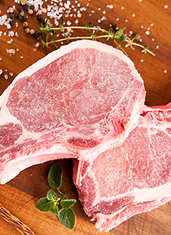 Life is simple.
Be born. Achieve great things. Have a few laughs. Play bridge. Expire.
We're just being honest. Don't get all melodramatic about it.
But this is Friday. And this is the Friday before the Fourth. And this is as good a time as any to focus on the positive.
Starting with the heroic amount of meat you're about to throw on the grill...
Which, from now on, you'll be procuring from the
Mosner Family Brands Online Shop
, your new go-to for impossibly miraculous meatstuffs from the same family who's been keeping Jean Georges and Daniel Boulud in steak for years, available now.
Rib eyes. Veal medallions. Lamb racks. You can get those things anywhere. It's true. But considering you give a damn (okay, a lot of damns) about what goes over your charcoal, you'll be happy this place exists. What we're trying to say is... this is pretty much the best stuff you can get.
You see, the Mosner clan has been in the butchering game since the '50s. They've been stocking some of New York's most exalted steakhouses ever since. And somewhere in between, they discovered the Internet.
Which brings us to the part where you go online and pillage through natural Angus USDA prime strips, Colorado lamb loins, Berkshire pork rib chops and, yes... even veal hot dogs.
It's the Fourth of July. Not a game.