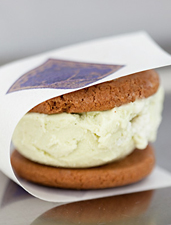 Sandwiches.
Suffice it to say, you're a fan.
Little bread. Little turkey. A slice of provolone or two if there's time. Boom... sandwich.
But this is summer.
Which means, among other things, that your sandwich intake should probably involve some type of ice cream.
And that your ice cream intake should probably involve some type of tequila.
And that this should probably all come in the form of
Coolhaus Spiked Ice Cream Sandwiches
. It's the first time the famed LA-based ice cream sandwich truck has ever delivered nationally. It involves tequila, bourbon and candied-bacon ice cream. And it's all there for you right now exclusively on
Perks
.
This is simple, really. It's hot outside. You're hungry. And you enjoy beverages that are specifically engineered to make you less than 100% sober. That's where these things come in.
Things like Abuelita Mexican chocolate ice cream laced with mezcal and sandwiched between two snickerdoodles. Things like whiskey-soaked chocolate-chipotle-BBQ ice cream flanked by potato chip Skor bars.
And more importantly, things that the cream wizards over at Coolhaus have set aside for you and only you.
And whoever else is reading this. But still...