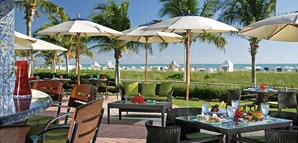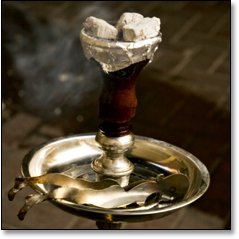 Miami has a lot in common with Casablanca. The waterfront, the raven-haired beauties, the smoky hookah parlors that thump well into the night.
OK, maybe not that last part. We prefer things a bit more al fresco here.
Which means now that your evenings have cooled, it's time to shift your happy-hour attention to DiLido Beach Club's
Hookah Lounge
, the only spot on the beach where you can take in a nice, strong hookah and watch your cares drift out to sea.
While the decor at the Ritz's oceanfront restaurant doesn't exactly scream North African hideaway, the vibe is all oil sheik. During your Thursday-Friday smoke sessions, the cocktails are priced to move (around $7), the hookahs are on the house, and the views of the water are expansive. Lead your posse to one of the cushy outdoor couches facing the water and proceed to inhale with abandon.
You'll also want to take advantage of the spot's Mediterranean-inflected menu presided over by wunderkind chef Jeff McInnis (whom you'll see in this season's
Top Chef
). Start off with seared halloumi cheese and pear jam and segue to cuttlefish tagine and cous cous in between puffs of your flavored tabac.
And don't forget to breathe...