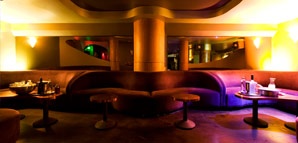 When the club scene calls, it calls from 11th and Folsom.

So you're not surprised when another DJ-drenched venue opens there.

Unless it's something like Paradise Lounge, a new DJ and live-music labyrinth reopening Friday with new owners, a new look and plenty of places to drink and dance.

As legend has it, East Bay bands like Green Day and Metallica started out here. So while you can count on a healthy diet of DJ-spun house, techno and '80s remix, you'll also witness a place getting back to its live-music roots. Which means in about two months, you can pop in here and catch everything from acoustic shows to all-out, plugged-in jams. (While no acts have been confirmed, the wish list includes Chris Isaak and John Mayer.)

Whatever brings you here, you'll likely want to skip the main dance floor and head upstairs. There's a nook with a few booths on the mezzanine, where you can get a bottle and people-watch. But the true gem is the penthouse lounge farther back, where you'll enjoy free-poured, top-shelf cocktails under the golden glow of a fireplace. So long as the lounge is open, you can slide right in—you don't even need to slip anyone cash.

Although it probably wouldn't hurt.