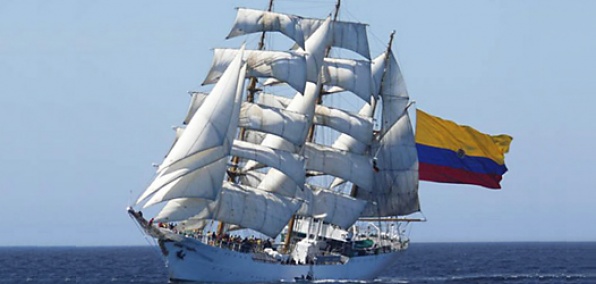 We'd like you to meet a couple of attractive Latinas.

They can handle you and all of your friends. Say, 150 of them.

And yeah, they like to party. By the hour.

Presenting OpSail Boston Tall Ship Sponsorships, your first-ever chance to throw a private soiree aboard a legit tall ship, accepting reservations now for a few days later this month and next.

If Russell Crowe from Master and Commander hosted a party in Boston, it would be on one of these very tall boats. Start by choosing one of the two available vessels docked at the Fish Pier: there's the 257-foot-long, 23-sail Colombian stunner, Gloria, or the equally lengthy Guayas, a training ship for the Ecuadorian Naval Superior School (when you think Ecuador, you think superior navy).

Then, well, it's all up to you. As long as the integrity of the boat isn't jeopardized (read: installing a beach volleyball court on deck), you can do whatever you'd like with it. A catered Fourth of July bash with a full bar and bartenders. An oysters-and-bubbly party for your college buddies. Pirate fantasies.

Or maybe something more intimate. Say, a live string quartet to play under the fireworks, and a four-course BBQ dinner catered by Sweet Cheeks.

You know, just your typical first-date stuff.