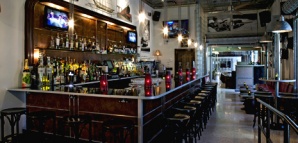 You're always on the lookout for the latest and greatest. But some things occasionally slip through your radar.

We're referring to The News Lounge in the MiMo District, open for a little while now and steadily building buzz as the neighborhood's laid-back cocktail den of record.

Mark Soyka's latest, News is part of the 55th Street Station empire that already includes a likeable restaurant (Soyka) and pizza bar (Andiamo). Come for a relaxing night out with a date or friends and you won't be disappointed—the courtyard is lush, the outdoor pool table is...outdoors, and there're plenty of porch swings on which to lazily sip a cold Pisco Sour (bring your own mason jar).

For a less backyardsy feel, head indoors, where the retro-industrial décor offers three distinct seating areas. There's the saloon bar, embellished with auto-loving touches like Mercedes hubcaps and steering wheels; the two-story main room, for when you're feeling the urge for a Fritz Lang/Art Deco experience (stare deeply into the many Metropolis stills); and the dimly lit mirror room, for when you and your date require a little extra privacy.

You wouldn't want anything winding up in the papers...