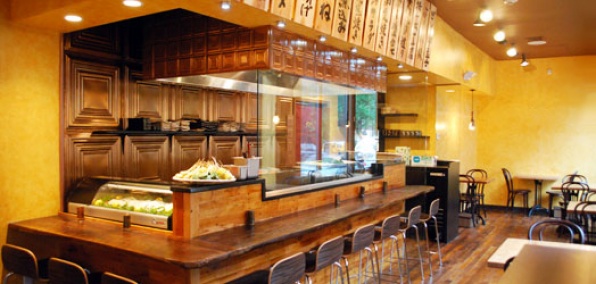 Japan.
Ancient land of samurai, geisha girls and crazy game shows.
Biggest drawback: it's really really really far away.
Well, not anymore. Well, at least as far as its killer tapas are concerned.
Commence aggressive mouthwatering for
Yakitori Zai
, a sliver of Japanese grilled meats, slated to soft-open a week from today on Shawmut.
There are times in this life when first dates require special care. One of those is when you've somehow bridged the language barrier and finally lined up a night out with that gorgeous specimen of Japanese descent you've been eyeing in your Bushido class (that it's your instructor is another reason to walk tall today).
Alpha plan: this 34-seat charmer saturated in reclaimed wood, Japanese writing and the smells of yakitori-style charcoal grilling (which once was the general musk of your average warrior). You know, the kind that uses charcoal that burns at a higher temperature for perfectly searing and locking in the natural flavor of
grilled chicken parts of every variety
(yes, there's gizzard, diaphragm meat and heart).
Or if you're both keeping it light and lean, you can just split some
Buta Shabu
(boiled pork sliced thin and served cold) and several over-poured shots of sake, served in shot glasses sitting in wooden boxes.
It's like they know you already.