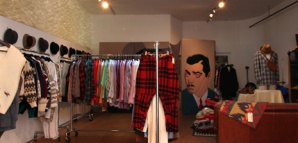 We have some bad news.
That Don Draper costume you have planned for Friday is the sucker's bet of Halloween 2008—it's about as original as the sure-to-be-ubiquitous Sarah Palin costume (you betcha!).
So you might want to take a quick jaunt over to Williamsburg and see the folks at
Houndstooth
, an under-the-radar men's-only vintage store that stocks some of the best Halloween-ready retro gear we've seen in some time.
Houndstooth is where actors, models on photo shoots and your hip-but-exceedingly-classy friend go to get outfitted in rare suits, sweaters, boots and accessories. There's nothing costume-y about the store, so you don't need to worry about leaving there with an afro wig, a cape and short shorts. In fact, whatever you happen to score for Halloween will probably have legs long after pumpkin season.
If you're short on ideas, the owners are on hand to unleash their creative and styling backgrounds to make you look your Halloween best. You may end up as Sherlock Holmes (
Downey Jr.-style, of course
), an Incan shaman, Jay Gatsby or a post-crash 1929 stockbroker.
On second thought, that might not seem like a costume...