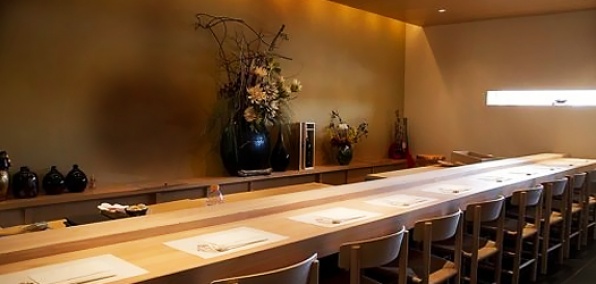 Guest Siberian-tiger taming. Blindfolded blackjack. Dating an actress.

All tremendous gambles with tremendous upsides—none of which match the risk/reward potential of going off-Strip for sushi.

So let's get to it.

Introducing Kabuto, a new off-Strip desert oasis where fresh fish fall from the sky before a master chef works them into daily rotating specials with his butter-soft hands, now open.

If at some point, by some sheer stroke of lightning, you find yourself romantically linked for a weekend to a ballerina/showgirl with a thing for sushi and adventure, this is your spot.

Attached to a massage parlor in a Chinatown strip mall you'll see an unmarked white facade—windowless, save for a rectangular sliver of glass casting a shadow over two four-seat tables at the far end of the dining room. Sit at the sushi bar. As you fill the Princess of Monaco's porcelain goblet with house-aged, 100-day-old pineapple sake, ask the chef if you should go with the 10-piece choose-your-own-adventure nigiri tasting or tonight's omakase go-for-broke experience.

You could wind up with any number of meal outcomes—including Wagyu beef from Australia, giant oysters from Washington, bluefin tuna from Spain or a host of fish flown in daily from Tokyo Bay.

And boy are their arms tired...