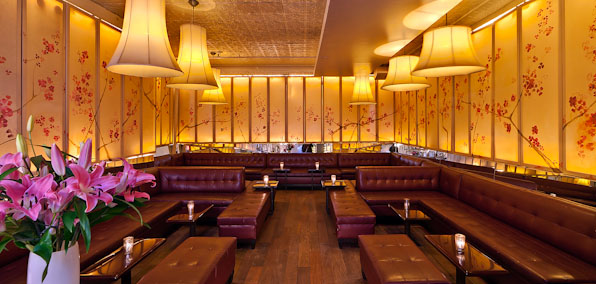 Choose? Hell no—you love 'em both. And this week you have a new dining spot for each.

Your downtown girl will love the hipster scene at the new Stanton Social, a '20s-speakeasy restaurant on the Lower East Side by chef-partner Chris Santos (of Happy Ending). Lounge on oversized leather banquettes, share gourmet tapas-style platters like French onion soup dumplings, dunk warm doughnuts for her in caramel sauce (rejoice—doughnuts are now chic), and top it off with a Black Magic, which is Guinness and champagne (continue rejoicing, Guinness is now also chic).

Your uptown girl will appreciate Bobby Flay's new midtown hotspot, Bar Americain, a classic French brasserie done up American style with cuisine from all regions (including the Cilantro King's famed Southwestern). A Bronx cocktail sets the mood for clam and sweet potato chowder and spice-rubbed filet mignon, all served on giant bronze-trimmed brasserie plates under huge drum-like lights.

Swearing off women? These places work for your boys too. Swing into Stanton for pre-nightclub cocktails and scening. Try Bar Americain for after-work drinks and top-notch dining perfected by Flay, the only chef who claims: "UrbanDaddy? That's me."