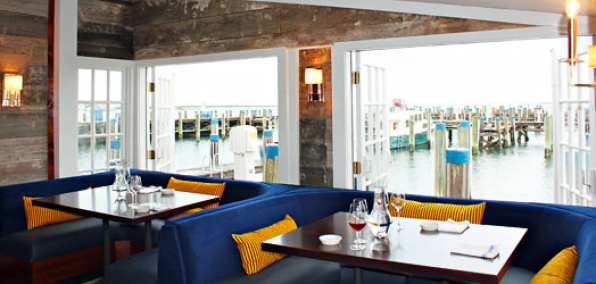 Nantucket.
It's on the brain this time of year.
So today, we thought we'd recite a very special limerick.
Actually, scratch that. Let's tell you about the largest raw bar on the island.
Presenting
Cru
, the newest reason to gallop off the Hy-Line and directly into some mollusks and insane waterfront views, soft-opening this Thursday on ACK.
This probably won't be that difficult, but picture crossing over from Hyannis on the ferry this weekend. You'll exit the dock and basically enter here (it's literally next door, in the old Rope Walk space). Then, you'll grab a seat at one of the two driftwood-y bars (one in the front, one in the back) and start with a round of
Kentucky Monks
(Bulleit bourbon, green Chartreuse, Aperol and Bénédictine).
Next, you'll begin ordering bubbly (naturally) and some
Grand Plateaus
: massive towers of raw-bar essentials like
regional oysters, clams, lobster and tuna crudo
. Or if it's more of a turf day, go for the black Angus sirloin with roasted potatoes and béarnaise sauce (béarnaise is French for "yummy").
And don't worry: there is nary a seat in the house with a bad view of the ocean. But if you really want waterfront, you can claim a chair on the 40-seat patio.
Any closer to the water and you'd be on your yacht.