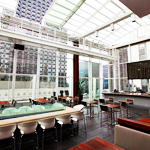 THE GLASS CEILING
Roof on the Wit
What's New: Start with the fact that Roof now has a glass roof. A retractable glass roof. Throw in LED light shows and a forthcoming DJ booth, and basically it's your own 27th-floor cocktailing Astrodome.
What's Not: The views. The champagne. The brisket sliders. All right where you left them.
Net Gain: Rainproof cocktails.