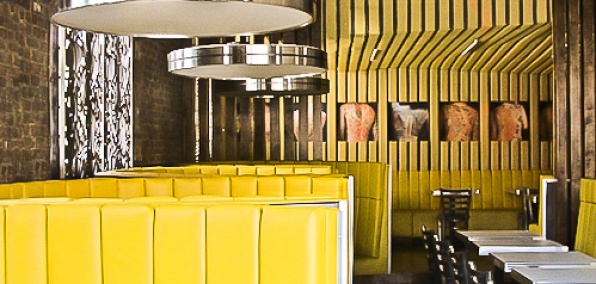 The Fatty Crew guys: you know them. Love 'em.

Scott Disick: you... maybe know him. You may or may not love him. You may or may not appreciate his eerie resemblance to Patrick Bateman.

Anyway, they've gotten together to make some Kobe short ribs for you...

Welcome to Ryu, an insurgent little Meatpacking izakaya from some Fatty dudes and Mr. Kourtney Kardashian (for some reason), opening tonight.

Here's what it's not: subtle. It's not an intimate date spot, either. And it's not... not bright yellow.

Here's what it is: a strong place to start off a night that may eventually involve revealing your surprisingly killer moonwalk. (And revealing you carry a rhinestone glove at all times.)

It's where, on any given night, you may notice an oddly large Kardashian-to-you ratio. It's also a jump-off spot for pork katsu sliders, mini lobster rolls and delightfully complicated cocktails that you can and will order by the bowlful.

The backdrop for all this: Japanese mafia graffiti. Vertical wood paneling. And a handful of yellow-leather-banquetted, '50s-diner-style tables. And yes, there's a bar (wouldn't be an izakaya without one) that you can sidle up to for a chicken meatball skewer or nine, and some sake-based preparations for the rest of your night.

You're not one to be out-prepared.