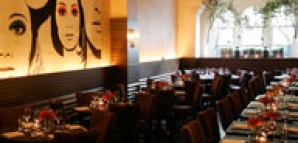 "I've done the nightclubs. Now I want to go somewhere I can actually have a conversation."

Relax—it's not your "after midnight" girl trying to get serious with you, it's Amy Sacco, New York club queen (Bungalow 8, Lot 61) referring to her latest project and first restaurant, Bette.

Opening this week, Bette is laid-back—don't expect a screaming scene from the girl known for bringing keys, palm trees and the ultimate in velvet ropes to NYC nightlife. Sacco's been born-again: "I want something totally unpretentious."

The restaurant is surprisingly so, resembling a modern English salon—classic and comfortable. The tiered walnut panelling and carpeted ceilings emanate intimate luxury, while the supersized '70s pop-art faces by Richard Phillips add a Manhattan flourish. The cuisine is "European grill," from truffle steak-frites to lobster pasta, herb-grilled black bass and a mean short rib.

Bette's a good choice for a less sceney but still in-the-know date spot; ditto for business meals where you don't feel like shouting over pounding music or garrulous scenesters. Walk-ins are welcome but reservations for this 85-seat spot are highly recommended. You may not need a key at the door...but this is still New York.
Note:
<em>Bette, 461 W. 23rd St (between 9th and 10th Aves), 212-366-0404</em>