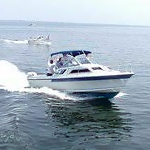 FOR THE FISHING TRIP
What it is: A 42-foot sportfishing yacht. Good for you and 12 people to cruise around the harbor while you take advantage of the full bar, catering (think: BBQ and lobster rolls) and surround sound. Or just the master stateroom...
Best for: Alpha-male bonding/deal closing. Or, you know, fishing.