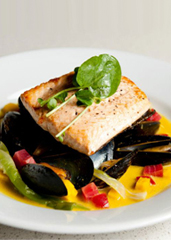 You've searched high and low.
Through doors and storage spaces you've never even used. Under the bed.
Your conclusion: there is no ABC Kitchen at your place.
But don't give up hope...
Introducing
Kitchit
, an army of chefs from your favorite restaurants looking to take your next dinner party to the dinner party promised land, launching tomorrow.
Picture hosting your ideal supping experience. Luchador masks. Marshmallow tasting menus. Miniature gin Ferris wheels. That's what this service is for. Hooking you up with chefs who will make it so. Guys like Floyd Cardoz from North End Grill, Dan Kluger from ABC Kitchen and Harold Dieterle from Kin Shop.
Just visit the site and choose a chef and an open date. A little background and what each chef will charge for anything from a cocktail party to a full-fledged multicourse meal is all there. You'll share your vision with the chef before booking, and they'll get back to you themselves with a proposal in a day or two (you can also just let them work their magic).
Your work is done from there. On the big day, they'll shop, prepare, cook, clean—everything. You just sit there, dignified, taking it all in. As if to say, "Of
course
there are Thai lobsters stuffed with Maine lobsters at my dinner party."
And that's how your lobster inception dinner became a legend.