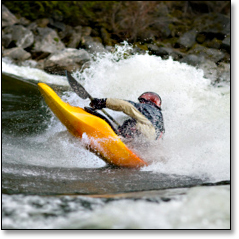 Look at you.
You've been working like a dog lately.
Seriously, you've been nonstop since like 10am.
You need a break. And not some "catch up on my crosswords" quiet weekend either. A real break. The kind that makes you feel like you've just stepped into
Point Break II
.
Introducing the brand-new
Paddle & Jump
package at Sanctuary Beach Resort in Monterey—two days of skydiving and kayaking to splash a little water on that soul of yours.
Your adventure begins with the world's highest tandem skydive over the Pacific, where you'll have continuous, unparalleled views of the West Coast as you free-fall some 18,000 feet down to earth. The next day, you'll take a private, two-hour kayak tour of Elkhorn Slough, paddling mere feet from wild harbor seals, sea lions and otters. (Consider it your Little Hiawatha moment.)
At this point, of course, you'll need a thorough rubdown, which you can take in-room (if you're on a getaway with your adventurous lady), or in the fully equipped spa. Cap things off with dinner at the Kula Ranch Island Steakhouse, where the rib-eye comes highly recommended.
And give our best to Keanu.