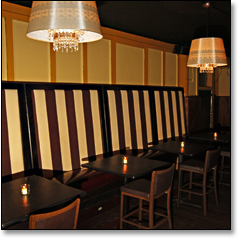 When it comes to Wrigleyville, you follow the rules of the jungle. After the Cubs pack it in for the season, you cede the territory to the party animals.
But we've found a place that may lure you back for postseason. Introducing
The Zoo
, scheduled to open this Friday. Despite the name, it promises a slightly more civilized way for you to entertain yourself (and your dates) on Clark Street.
You'll appreciate that the animal theme is not over the top. The space is dimly lit by twinkling chandeliers hovering above a bank of bar tables, so you might not notice the bar stools textured with something resembling elephant hide, or the leopard-print backdrop behind a tiny stage. (Live music will eventually play on occasion, but mostly you'll find DJs spinning a mixed rock-pop playlist.)
For a cozy, cushioned den to bring your dates, head to the middle room—between the front bar and a private party space called the Cage. There's a menu of standard bar fare (mini steak sandwiches are the highlight), but this is really more of a place for a nightcap. The drink list doesn't go overtly exotic, but one item suggests this spot may have trouble keeping Wrigleyville's baser animal instincts happy.
It's called the Tranquilizer Shot.