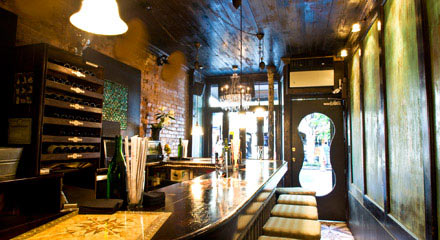 Life
hands you lemons, you make lemonade.
Life hands you a tiny nook of a bar in the East Village with no kitchen, no standing room and no tables...you make
Desnuda
, a low-key, low-lit ceviche and oyster date spot, now open on 7th Street.
You may recognize the ornate marble floor and utter lack of standing room (in a charming way, of course) from previous occupant
the Bourgeois Pig
. Everything else, however, has changed. The walls are covered in panels of oxidized copper (like small pieces of the Statue of Liberty), the bar is a solid slab of dark wood and marble, and the low hanging lights are old-timey and dim. The grand effect is a welcoming twenty-seat sliver of a bar that you'll want to linger at with a date, eating truffle popcorn while you wait for your acid-tinged seafood.
Since there is no kitchen, all the ceviche is prepared and presented in front of you, sushi-style, by the chef (who also doubles, Momofuku Ko-style, as the bartender). Mackerel is marinated with truffle oil, sea urchin is bathed in a lemon basil cream, and oysters are served straight up, tea-smoked or as shooters.
And when life hands you oyster shooters, you drink them.