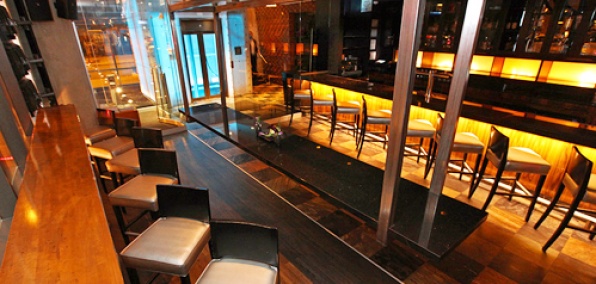 "Make no little plans. They have no magic to stir men's blood..."

That, of course, was Daniel Burnham's famous admonition for his 1893 World's Columbian Exposition proposal. But we're fairly certain he was also thinking about what you'd be getting up to this Tuesday.

So prepare for Argent, a White City–inspired, bi-level restaurant/oyster bar/late-night lounge set to rock the Dana Hotel next week.

This replaces Aja with a vibe that's just a hint edgier. There are steel-beamed staircases, semicircular jet-black banquettes downstairs and a raw bar above. Well, that last part's not so edgy. But you'll appreciate it when it's late and you just need to knock back a couple of oysters with someone you're getting to know.

But say you're on a date. Or you just really, really want to impress that archivist at the Chicago History Museum. (You have your reasons.) That's when you'll tuck into turn-of-last-century recipes from Rodelio Aglibot (Sunda) and Jackie Shen (Red Light) like Carpet Bag Steak with Rocks (skirt steak with oysters Rockefeller), filet mignon with foie gras mousse and their version of 1917's confectionary craze: the moon pie.

So much better than 1919's confectionary craze: the Shoeless Joe oatmeal raisin cookie.