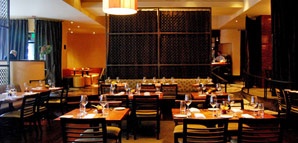 In uncertain times like these, it's only natural to crave a sure thing.

So when a chef that worked at some of the city's best restaurants—think: Myth, Gary Danko—decides to branch out on his own, you know the results are going to be money in the bank. (Or, wait, not money in the bank. Something more dependable.)

Introducing Zinnia, Sean O'Brien's new Jackson Square restaurant, opening Wednesday and taking reservations now.

Think of Zinnia as your go-to spot for that crucial first date, when you want to impress but still keep things light and breezy.

If you call ahead, ask for a booth by the windows. Otherwise, sneak into one of the small tables in the cozy corner nook, near the bar.

On the menu: such deftly prepped dishes as Potato Gnocchi with Wild Boar Bolognese, Caribbean Shrimp Poke and Grilled New York Steak with Fried Yucca. Match these with potent-yet-tasteful cocktails like the absinthe-spiked Chrysanthemum Cocktail, and all that's lacking is a little witty repartee.

Fortunately for you, that bank is always full.