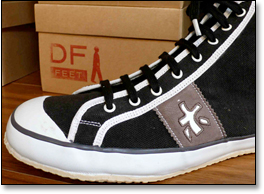 Your impeccable taste has given you a healthy respect for the classics and an eye for the up-and-coming. We're talking about shoes, of course.  
So while we would never ask you to cheat on your Chucks, your Wallabees or your Purcells, we think you might find a little room in your closet for
Premiata's new canvas high-tops, just arrived at DF Feet.
 
There's a chance you know Italian shoemaker Premiata for their traditional collection of Mad Men-esque oxfords, brogues and boots—which is why you're excited that they've started cranking out some less boardroom-inclined kicks. There's nothing crazy going on with the design—just a classic black canvas high-top with sharp white and brown accents—so they'll go with everything from your new casual suit to the obvious jeans/T-shirt combo deal.
 
But what may put these in contention for go-to tennis-shoe status is that they won't fall apart the minute you hit the bricks—parts are glued, then stitched together (a little stitching goes a long way toward keeping everything in its right place).

Extra protection is always a good thing.