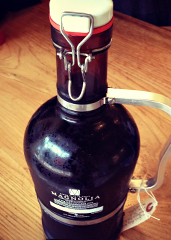 It's not the breaking of the rules.
It's the bending, the massaging, the vague but reasonable circumventing that's so damn invigorating.
So about that pesky California law prohibiting anyone but a brewery to fill a growler...
Well, let's just say we found a way around that.
Presenting
Magnolia Brewery's Growlers
, a weekly rotation of two liters of brewer's choice beers from the Haight Street brewpub, available now at Fatted Calf.
Now, you can still go straight to the source and get your to-go growlers filled at Magnolia. But when they go ahead and deliver to the Hayes Valley butcher shop you already frequent on the regular, well, you wouldn't be one to turn them down.
You're probably wondering how you can get away with grabbing your growler at Fatted Calf instead of Magnolia. Essentially, they're prefilled, using a special counter-pressure growler-filling system obtained expressly for this purpose. It's all meant to keep oxygen out so the beer stays carbonated. So what you might lose in beer selection (there's one beer style per week, currently Sara's Ruby Mild), you gain in freshness—hey, every second counts.
You'll find the beer-filled ceramic swing-topped growlers from Germany chilling in the open refrigerator daily. But since they change them out on Wednesdays—which so happens to coincide with Butcher's Happy Hour—you'll want to pick yours up over gratis sausages and beer.
Timing is everything.