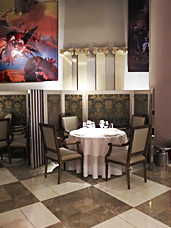 Remember that scene in
Black Swan
...
You know, the one where the ballerina opens up an incredibly ornate restaurant that's sort of Japanese, sort of French and sort of not subtle in any way, shape or form.
Then, she makes out with Mila Kunis in the back of a cab.
Well, this is exactly like... no. Wait. We're totally mixing up two different ballerinas.
Either way, here's
Mihoko's 21grams
, a Versailles-styled sushi spot that comes courtesy of Mihoko, a ballerina/heiress who's apparently famous enough to only use one name, opening April 19.
In case the Versailles thing didn't already give it away, this is purely a swing-for-the-fences date spot. Do not come here if you're looking for a quiet, candlelit evening that consists mainly of talking about the weather and splitting a bunch of flatbreads.
Do come here if you're interested in the beautiful fusion of foie gras and sushi. Served on plates of crystal with housemade sake in a room that by our best estimations is 99.6% imported marble.
The other 0.4%: big bronze lanterns, baroque paintings, Ionic columns, a basement bar/lounge/boudoir and a souvenir store. Yes, they've got a little setup by the entryway that's shilling everything from hand-painted soup bowls to porcelain teapots.
Inform your Aunt Millie immediately.