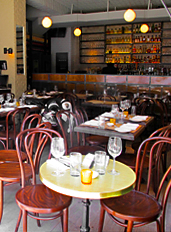 And... exhale.
You did it. Survived an entire weekend of family time.
Unfortunately, they don't give medals for such a thing.
But please, accept this triple-decker tier of shellfish as a token of appreciation.
Introducing
Ken & Cook
, a raw bar/restaurant on Kenmare Street with a healthy surplus of seafood and a welcome surprise in the basement, now open for private previews.
Spring was made for spaces like this. It's wide open (there're 65 seats), it's airy (there're street-facing French doors), it's got mussels (of the chorizo-and-tomato-sauced variety).
Once upon a time, this spot was Travertine. Then, it was gutted. Today, it looks like a very attractive version of... Travertine. There's lots of brown leather, white brick walls, little library lamps atop the bar. It all feels sort of homey. And sort of '60s. Like the kind of place Draper would've gone to when charming the pants off a client. Or when craving an onion-jam-and-gruyère cheeseburger.
To find the absolute best tables, you'll want to enter through the front, exit out the side and stake a sidewalk seat.
But in the very near future, you'll also have the option to set up shop in their downstairs club. It's called L'il Charlie's. It used to be XIX (and before that, a seafood shack). The biggest difference now: there's a DJ booth.
And it doesn't smell like cod.