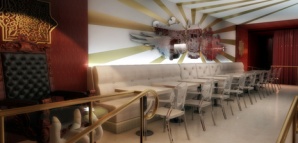 Let's be honest.

When it comes to nightlife, you're a member of the inner court.

As such, you deserve a club that treats you like a king. Or at least a younger, more handsome Merlin.

Introducing The King Is Dead, a new royalty-themed nightclub (yes, really) opening in the Design District this Saturday.

If Sean Connery and Tommy Lee opened a club, it would look something like this. Located next to foliage-filled Grass (and brought to you by the same owners), the castle-like spot is accessed through medieval wooden doors, setting the tone for the dynastic debauchery within. Inside you'll find a space that is truly committed to its Knights Templar motif, but in all the good ways (think Vegas-style panache) and none of the bad (read: Epcot).

In addition to a 17th-century pulpit that serves as a DJ booth, there are plenty of leather throne-like chairs available for your monarchical exploits. But ultimately you'll want to head into the all-black VIP room, complete with a dungeon-like walk-in shower. We're told it's more of a hangout spot for hired dancers than an actual place to bathe, but you never know...

It's not like the king is going to stop you.