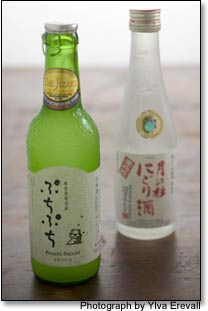 What

Sparkling sake.
Why

Granted, drinking anything sparkling instantly calls your machismo into question—but your woman loves bubbles. Bottom line: She'll love you for showing her something new. Besides, guys have done wussier things to impress girls (it beats the hell out of renting a Freddie Prinze, Jr. movie).
When
Now. Sparkling sake has just hit the States, although for the past five years Japanese hipsters have been knocking it back.
Which
(1) The Tsukino Katsura (classic)
(2) The Harushika Tokimeki (sweet)
(3) The Poochi-Poochi (we drink it solely for the name)
Where
Right now it's served in just a few select restaurants:
Asiate
,
Sakagura
,
Sushi Samba
and
Chanterelle
. You can also pick some up at
Landmark Wine and Sake
.
How (Tasty)
Very. If you love traditional sake, you'll love the sparkling variety. The tiny bubbles (natural from a second fermentation process) are less intrusive than champagne bubbles and add a unique texture. It tends to be more rich and flavorful because it is unfiltered.
Will I look fruity?
Probably.


Is it worth it?
Definitely.