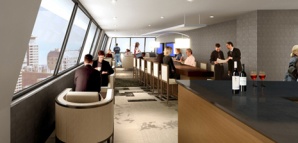 While stocks headed south last week, your portfolio of nightlife options soared. Particularly in the penthouse lounge sector...
Introducing
Sky
, your new 40th-floor retreat in the Avenue Hotel.
Don't worry if you spent your Friday night at that other
Sky Lounge
, which also opened over the weekend. This one will be your late-afternoon cocktail escape. (After dodging those American Girl shopping bags swinging along Michigan Avenue all day, you deserve a drink.)
Just dart down Huron, pass the lobby's Le Corbusier club chairs, and hop an elevator straight to the penthouse of this under-the-radar hotel (nee the Radisson). Where there was once cardio equipment in the top-floor fitness center, you'll now find funky silver and red furnishings, a gas fireplace and well-stocked bar. Elbow-bending is the preferred exercise these days, a muddled mint-and-rum
Mojito Martini
is your primary dumbbell, and protein bars have been replaced by Costa Rican-style ceviche and New Zealand lamb chops.
The real draw, though, is the sweeping panoramic windows, capturing everything from the John Hancock to the calm afternoon waters of Lake Michigan. You'll also be treated to a stunning view of the lighted blue pyramid of 680 Lake Shore Drive, aka, Playboy Enterprises.
And perhaps a few stunning views a little closer to your martini.