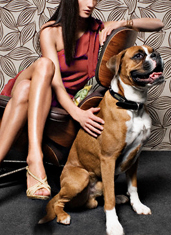 "Sit."
"Roll over."
"Go by that jogger and do something adorable."
Congratulations, you're now ready to own a puppy.
Well, short-term-lease a puppy.
Presenting
Dog Vacay
, an online service that connects traveling pooch owners with responsible (notice we didn't say opportunistic, but, you know...) pooch sitters, available now.
You know how life sometimes hands you lemons, but you make lemonade... well, this is that rare occasion when life instead hands you a baby golden retriever.
And really, the timing couldn't be better. The sun is shining. The sundresses are sundressing. If there were ever a moment (or a weekend) when you needed puppy assistance, this is it.
Basically, you'll create a profile, list your dog-watching credentials (grew up with pets/was a stunt double in
Best in Show
), and if a local pup owner has to suddenly leave town, you're in.
You'll play with the dog, feed the dog and, when the yoga class at your nearby gym is letting out, walk the dog. Eventually, his family will return. They'll pay you a previously-agreed-upon fee. You'll promise not to tear up and make it uncomfortable. Everyone wins.
But be warned, if your new yoga instructor friend wonders what happened to the little guy next week, you'll need to be ready with an excuse.
"He went to live on a farm" always seems to work.